Using the SRC8 with DCC Specialties products

The SRC8 provides a very cost effective solution for a LocoNet interface. There are eight groups of throw/close inputs for turnout control and reporting. Optionally, these can provide up to 16 inputs for sensor state reporting. The group inputs can be individual programmed to any of these three types inputs.

Typically the SRC8 group inputs connected to the Hare and Wabbit would be programmed for turnout (switch position reporting) feedback and for the PSX and PSX-AR series as sensor (version 50 or later of the SRC8). Because of the SRC8 flexibility you can have Hares, Wabbits and PSXs all connected the SRC8 inputs at once.

Below is a diagram showing how each of the DCC Specialties products can be connected to the SRC8. For details on how to program the SRC8 look at the manual located on this page.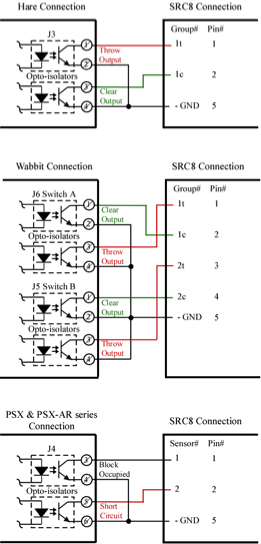 Below is a diagram showing how eight Hare can be connected to a SRC8. The optional TSA provides the connivence of screw terminals. All group inputs would be programmed for turnout (switch position reporting) feedback.

A typical application is depicted below where a SRC8 receives status information from several DCC Specialties products and transmits it over LoconNet to a SIC24. The SIC24 is used to drive LEDs on a panel to visibly show the status. A TSA is used to provide screw terminals for the wires connected to the SIC24. It also provides the current limiting resistors for the LEDs used on the panel. TSAs could be used with the SRC8 as shown above. In this example the panel would show turnout status from the Hare and block occupancy and short circuit state from the PSX. This scheme greatly reduces the length of individual wires and reduces the complexity of the wiring.

LocoNet is a registered trademark of Digitrax, Inc.
Hare and Wabbit are a trademark of DCC Specialties.